Summer Camp 2011! What an Animal!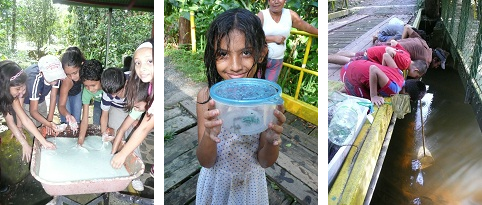 The last two weeks at CECOS, the Sarapiqui Conservation Learning Center, have been very busy and exciting. Our annual environmental-education camp opened its doors on January 17th, beginning ten days of fun games and activities, all while experiencing and learning about the beautiful and wondrous tropical forests and rivers just a few feet outside the Center's doors. Each morning began with the mingled laughter of our community's younger children, aged 5-9 years.
After lunch, we welcomed in our older crowd to join in on the fun, educational activities happening ever day at the Center.
Camp started with recycling, reusing and reducing, as we made arts and crafts out of recycled materials. Community artisans joined us and gave a lesson reusing our own recycled paper. Equally as important, we utilized our newly dried paper to record some of the amazing creatures we discovered while walking through some of the rainforest trails that suround the Learning Center.
Day two, we learned about local animals and plants through creations and explorations. Using paper towel rolls, pizza boxes, art supplies and real leaves, we recreated our own tropical forests and the myriad animals living within. The nearby Chilamate Jungle Rainforest Lodge organized guided tours and helped us explore their extensive network of rainforest trails bordering our own Sarapiquí River.
During our walk, we explored several ant and termite nests, watched several brilliantly-colored poison-dart frogs hop by, and even saw two howler monkeys nimbly swinging between several branches over our heads and grunting loudly. Amazed by the beauty around us, both tiny and hidden, and great and thunderous, we washed the thick mud off our boots and headed home, ready for more learning and adventure tomorrow.
On Wednesday, we spent our morning learning about aquatic environments, from the tiny sparkling pools laden with tadpoles inside hanging bromiliads to the mighty white-water rapids of the Sarapiqui River, whose roar we hear every day outside our center. After spending the morning collecting and studying dragonfly nymphs and tadpoles with our hand nets and magnifying jars, we then learned how nature protects and filters the very water we drink beneath our feet. All of the campers gathered natural materials within a funnel and competed to see whose collection of rocks, soil and moss filtered dirty stream water the best.
Fact or Fiction: We then took turns drinking each other's filtered stream water.
Over the course of the next week and a half, we continued studying local animals through several games and activities, even finding and learning about a local Zopilota snake before taking a field trip to the nearby Serpentario snake zoo in La Virgen to learn more about these beautiful and important predators of our nearby rainforest.
We wrapped up our week by making origami boats from paper and after waterproofing them, raced our creations downstream to learn about river dynamics and watercraft design.
Our final day was punctuated by enjoying a slideshow of everything we'd learned and accomplished during camp, while snacking on cookies and juice.
It was a fun and exciting way for the children to end their school vacations. Campers and new volunteers to the SCLC all left with many fond memories, eagerly awaiting both next year's camp and the start of school to continue learning and playing alongside the dedicated staff here at the Sarapiquí Conservation Learning Center. We here at the Center look forward to a fun and productive year of providing safe, educational programming to the youth of our neighboring communities, both in the classroom and outside, in the beautiful tropical forests just outside our front doors.