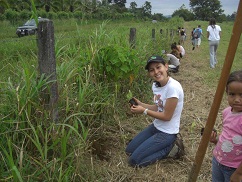 Thank you for your interest in donating to the Sarapiquí Conservation Learning Center!
The rainforests are the lungs of the Earth and benefit the entire planet. Yet rainforest conservation projects often bring relatively few benefits to local communities. Local community members are key to tropical rainforest conservation, and we help rural communities of Sarapiquí to protect and sustainably use their natural resources.
We focus our efforts in three ways: forming future environmental leaders through our educational programs, planning for local sustainable development and conservation, and connecting ecotourists to the local community. Your contribution will support our programming involving local communities. Here are just a few ways your donation can make a huge difference:
$15 will buy school supplies for a child for the first semester
 $50 can support the after-school program for an entire month
 $200 covers the stipend that goes to a local family to house a volunteer
 $500 will allow internet access for the community and staff for a year
Thank you, and please remember that you are making a big difference for children and families throughout the region along with a great impact on the rainforest and the wildlife that relies on us for its survival.
The SCLC is a US non-profit organization, Tax ID# 59-3286423.
Make an environmentally friendly donation by donating electronically
Or send a check payable to:
Sarapiquí Conservation Learning Center
Puerto Viejo de Sarapiquí
Donate  Now! Here are two ways you can send you donation ..
Become a quarterly or annual giver and be one of the SCLC's most dedicated supporters...
Donate to the Learning Center in Honor of Someone Special
. By supporting 
...