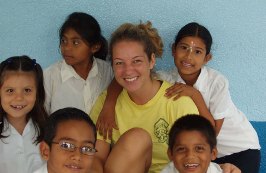 SCLC invites people from around the world to coordinate and assist with all programs.  This creates an exchange of cultures and knowledge between local people and foreigners.   Volunteer helps is one of the key engines of the Center.  This is partly because the SCLC has a very small local permanent staff due to our limited budget.   This is also because the SCLC strives to provide a native English speaking teacher for the English as a Foreign Language (EFL) classes, one of the core SCLC offerings.    Our local EFL students have expressed how valuable that aspect is for their language learning.     We are so thankful to all past, current and future volunteers; without them there would be no SCLC!
 Are you interested in volunteering?   There are two types of volunteers at the SCLC.   In our Short-Term program, the term of stay goes from 1 month to 5 months. This program requires payment from the volunteer to off-set the costs of managing the program.    Our Long-Term Volunteer program is for individuals that can commit to six months or longer and is generally designated for the EFL program.   The volunteer for this program is in charged with covering one semester of EFL classes.  Semesters are typically Jan – June and July – Dec.   This type of volunteer is compensated for their work as the SCLC pays a local community family for room, most meals, and laundry service.   We hope you will consider joining our team!
What Makes A Successful Volunteer?
You need an understanding of people's culture and a willingness to see things from their perspective, not require them to adjust to yours. Dan McDonald
Adaptability
Having the ability to adjust to the many new and different situations you encounter as an SCLC volunteer allows you to be responsive to the people you will live with and serve. You may be as exotic to your new community as your new life is to you, and you will need to adapt to a much less private existence than you probably had back home. Sometimes it may seem like you're living in a fishbowl.
Patience
This is not a job for people seeking quick fixes or instant gratification. Instead, you will need to work creatively to develop relationships with community members, and to build trust and motivate the various stakeholders. This all takes time.
In many cultures, it's the process that matters and not the outcome, so the ways in which you interact and communicate with people may become much more important than the things you actually achieve. Karen Voetsch
Self-Reliance
Although you may feel like you are never alone as a Volunteer, you may also feel very "on your own." You will face language barriers and the challenge of finding your way around a new neighborhood. You can expect to be well-received by the community, but initially you will be dealing with things as simple as learning people's names. Having a strong sense of self-reliance will help you navigate through moments of doubt and challenging situations.
Positive Attitude
The structure of your job assignment and the work itself will probably be less defined than what you have experienced in the U.S. or your home country. There may be times when the work flow feels chaotic or times when it is slow. A positive attitude can ease the transition.
Flexibility
As an SCLC Volunteer, you will likely be placed in an environment very different than anything you've experienced in the United States. Letting go of expectations and being flexible will assist you in handling whatever comes your way. For example, Volunteers live like the neighbors they serve, so there may be varying access to running water, electricity, or other resources. Housing is safe but may be basic. Also, in many countries, the way you dress is seen as an expression of respect. To be accepted, you may have to conform to the standards in your host country and community.
Resourcefulness
As people adjust to new environments and cultures, they go through certain predictable emotional states: loneliness and isolation, insecurity and uncertainty, homesickness, and doubts about their commitment to serve. By being resourceful, working with what you have, and keeping an open mind, you will be able to overcome these challenges and thrive.
It takes accepting that you don't always have all the answers. You have to be willing and open to having your own assumptions, sensations, and world view challenged and questioned almost daily.' Helen Perry
Sense of Humor
Having the ability to laugh at yourself and at life's little surprises goes a long way. Your service will be a continual learning process. Keeping a light view will help you learn from your mistakes without judging yourself harshly. Besides, laughter is universal.
http://www.peacecorps.gov/learn/howvol/lookingfor/
SCLC offers two types of volunteer experiences:
SCLC long-term volunteers are highly skilled, full-time, and responsible for coordinating programs. Volunteers mostly work independently on their programs...
Short-term volunteer positions also are available on a limited basis and according to specific programming and community needs. We are always excited...