SCLC Welcomes New Team of Volunteers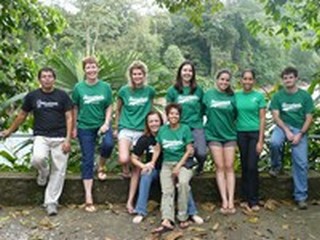 Don't forget to check out our SCLC blog! Visit www.SCLCseeds.blogspot.com to gain insight into the adventures of what it is like to volunteer in the tropical rainforest of Costa Rica and be sure to keep your eyes peeled for upcoming updates from our new volunteers.
As 2010 rolled around so did a new team of volunteers. Leah Josephson joined us from Saint Paul, Minnesota and is our Level 1 & 2 ESL teacher and Scholarship Coordinator. She is busy  everyday communicating with  the Scholarship students and their sponsors, finding new donors, and planning for her daily classes. She graduated from Simpson College in Iowa and later received her TEFL certification in Barcelona where she helped begin an English Language School for business professionals. Heidi Gramlich has moved from Fort Ann, New York and is our new ESL Coordinator. In college she majored  in ESL at SUNY Oswego University in NY and is taking time to volunteer in Sarapiqui before returning to the states to study for her PhD.
Lee Caldwell is our Ecotourism volunteer and is from Forsyth, Georgia. We are right in the middle of high season for tourism so Lee will be busy helping Kattia (the Ecotouism and Community Development Coordinator). Joanna Colon has joined us from New York, NY and is our After School Program Coordinator...she will be working with not only Chilamate this year, but also with Cristo Rey and Linda Vista. She decided she wants to touch as many childnren's minds and hearts as possible.
Our short term volunteers have been great additions to the center. Anne Louise Carney came to the center for 5 weeks and worked with ´Las Morphas´. Las Morphas is a women's group that comes to the center to make their jewelery and crafts and then sell them in our artisan gallery. She taught the women how to felt so that they could sell different products. They loved ´Ana´ and still ask about her daily. Casey FitzGerald has just joined the team as our short term volunteer. He came as a birder but we found out he has MANY other talents as well. He will be working in the schools here on any projects that are needed from a 'handy man'. He will also be coordinating the weekly Bird Club.