Agricultural Fair and Farmer's Market 2008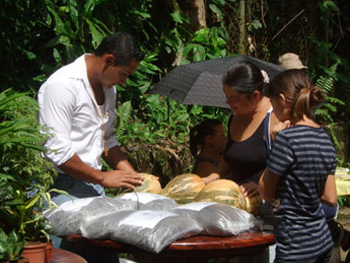 What do yuca, organic coffee, and black pepper all have in common? They are all grown in the Sarapiquí region. And they were all for sale at the SCLC's very first Agricultural Fair and Farmer's Market.
On Saturday December 6, the Center hosted a day-long event dedicated to celebrating the region's agricultural tradition, spreading awareness on organic and local agriculture, and holding a market for local farmers and families to sell their products. Benefits for areas that support local agriculture are everything from supporting small and family farmers in the community to maximizing freshness of produce and minimizing carbon emissions due to transportation over long distances. The fair was a step toward realizing some of these goals in the communities of Sarapiquí.
The Market lasted from early morning to early evening. It not only gave vendors an opportunity to sell their goods, but also for local families and visitors to purchase fresh products from members of their community. 14 vendors participated in the fresh-foods market, and products for sale ranged from yuca, limes and ayote squash to coffee, organic composting soil and Bioland organic snack foods. Additionally, there was a prepared-foods area where vendors sold home-made Tico favorites such as black-bean tamales and home-made corn tortillas with meat and vegetables.
To further promote  the themes of sustainable agriculture and consumption, there were afternoon charlas (talks) on three  distinct themes: "Agricultural Cooperatives and Using Organic Compost" led by COOPESARAPIQUI coffee cooperative, "Eco-Friendly Home Cleaning and Cleaning Products," led by FLOREX cleaning products company, and "The Importance of Organic Agriculture," led by SCLC high school scholarship students.