Environmental Education Training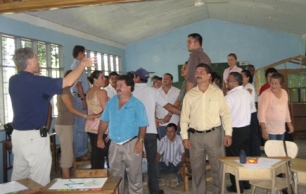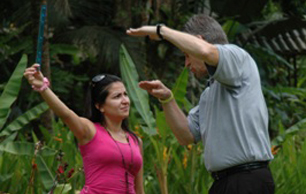 Teachers and environmental educators from Sarapiquí and Pital gathered to learn and share about the environment recently at two environmental education workshops held in the region. The workshops were organized and hosted by the Sarapiqui Conservation Learning Center. A majority of each day focused on the use of educational activities from Project Learning Tree and complemented by background information on local watersheds and biological corridors. The educator workshops were a collaboration of Holbrook Travel,  Project Learning Tree, and the Sarapiquí Conservation Learning Center (SCLC).
Project Learning Tree (PLT), a part of the American Forest Foundation, is an international environmental education program based out of the United States that has received awards and recognition from the Environmental Protection Agency and the US Department of Education.  Representatives from PLT have completed environmental education workshops for educators from PreK-8 throughout the United States and more than ten other countries.   The initiative in Costa Rica began through a field-based Learning Seminar designed by Holbrook Travel, in which PLT state coordinator, Sarah Haines, visited the SCLC.
The Sarapiquí Conservation Learning Center is a small independent nonprofit that focuses on linking community and conservation through ecotourism and education.   In 2005, prior to working with the SCLC, the director of the SCLC, Maren Barbee, completed a PLT workshop at Patuxent Research Refuge in the state of Maryland. Discussions with Sarah Haines and Sandy Doss of Holbrook Travel led Maren into contact with Al Stenstrup, PLT Curriculum and Implementation Director.  Al has over 30 years experience working as a teacher and creator of environmental educational curriculum and activities with a true heart to teach.  Al committed to donating his time to come to Costa Rica, and work with local teachers.  Holbrook Travel provided lodging for Al at Selva Verde Lodge, and SCLC covered transportation fee and all coordination.
Sarapiquí, being one of most well known areas for tropical rainforest studies as well as historical world renown ecotourism initiatives, had the just the right resources to create a genuine collaboration.  For the first workshop on March 8th, under the leadership of Maren Barbee, the SCLC turned to a local commission that focuses on environmental education.  The Natural Resource Commission in Sarapiqui, is a collaboration of  public, private and nonprofit organizations including - Instituto Costarricense de Electricidad (ICE), Ministerio del Ambiente y Energia (MINAE), Comunidad y Naturaleza de Nogal (project funded by Chiquita Banana, Rainforest Alliance, GTZ and Migros), FUNDECOR (Fundacion para la Proteccion de la Cordillera Volcanica Central), Reserva La Tirimbina, the Organization for Tropical Studies (OTS) La Selva, and, of course, the Sarapiquí Conservation Learning Center.  The institutes have distributed themselves throughout the county of Sarapiquí attempting to provide schools with support in environmental education.  Each institute invited 2-3 teachers from different schools that they work with to the workshop at the SCLC on March 8th.
The first workshop started at 9AM with teachers from 13 schools in Sarapiquí as well as representatives from ICE, Nogal, FUNDECOR, OTS, and SCLC.  The day was full of activities that focused on learning about the environment and how to share that with their students.   Al modeled activities from the PLT Activity Guide to show the teachers different types of hands-on activities that educators could use with their students. Indoor activities where participants built a working tree, read stories, made drawings of the structure of trees, and learned about local watersheds and the tropical rainforest. Outdoor activities were completed where teachers measured trees, created poems about observations of different creatures, and simulated the water cycle. Educators formed small groups to discuss how the activities might be used in their classroom. The goal of PLT was shared through the concept of teaching the youth "how to think" not "what to think" through observation, creativity, experience, and action.
The PLT Activity guide has been translated into Spanish in Mexico by Carlos Yruretagoyena with Fabrica de Papel San Francisco. Teachers were given the cd's with the Mexican Spanish translation with 96 activities that they could choose from to help teach their school curriculum.  SCLC will be following up with the organizations and teachers to find out how useful the resource is for the teachers.  A printed version of the cd will be made in the near future to assist schools that do not have access to computers.
The second workshop, following the same format, was held on March 9th at Tres Amigos Elementary School in Pital de Santa Elena. Maren worked with District 06 of Pital through a separate collaboration.  The SCLC is also member of the executive committee of the Biological Corridor San Juan-La Selva- a binational initiative that works to connect the Nicaraguan Biological Reserve Indo Maiz and the Costa Rican reserves Biological Station La Selva and Braulio Carrillo National Park.  Maren worked with the supervisor for the school district of Pital, Rafael Hernández Umaña, who graciously brought together teachers and directors from 28 different schools to participate in the workshop.
During both workshops, one could see and feel the energy and interest of the teachers, institutions, and organizations.  The hopes are that this is just a beginning in collaborations between teachers, and national and international institutes.  The key is to continue to influence and motivate teachers to spread the seed of our natural treasures.  There is a saying here in Costa Rica, "entre dicho y hecho mucho trecho"- between saying and doing there is a big trench.  However, there is another saying, "el camarón que se duerme se lo lleva el corriente"- the shrimp that sleeps will be taken by the current.  In other words, even though it may be difficult for these teachers to incorporate the activities due to time constraints, we must take the opportunity to spread and share our experiences and knowledge.  Humans need water and air to survive, so let's make sure everyone knows how to understand, use them responsibly, and to protect them.  On behalf of the teachers in Sarapiquí and the future generations, we thank Project Learning Tree for sharing their resources with us; and especially, Al Stenstrup for his time and energy in sharing his knowledge towards the stewardship of the Earth.