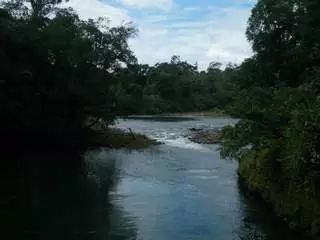 It was a cool, wet morning when the high school scholarship students arrived at the Sarapiquí Conservation Learning Center (SCLC). It had been damp and drizzling all morning; however, this did not deter the students from coming. All were ready and excited to do their part in protecting their beautiful rainforest by cleaning up the local Sarapiquí River.
On Saturday, April 28, 2007, the high school scholarship students from the SCLC along with Aventuras del Sarapiquí, a local rafting company, participated in a day long river clean up. The plan for the day was to travel down river in rafts and collect trash along the shores of the river. The participants consisted of twenty eight scholarship students, eight raft guides, two volunteers, and one staff member from the center. The participants were divided into eight teams of four to five. The river clean up project was organized into two sessions. The morning group began 13 km up river at a town called La Linda and would finish down river at the take out in front of Aventuras del Sarapiqui. The afternoon group continued where the morning group left off and collected trash until they reached the town of Puerto Viejo. By the end of the day, the students filled up 40 large bags of garbage from the riverbanks and water. The types of trash collected ranged from plastic bottles, food wrappers, Styrofoam, sandals, scrap metal, parts of a refrigerator, and even dirty diapers. The successful river clean up would not have been possible without the generous support from Aventuras del Sarapiquí. We would also like to thank all the raft guides, scholarship students, volunteers, and everyone at Aventuras del Sarapiquí for donating their time and effort to this worthy community project.
The Sarapiquí Conservation Learning Center (SCLC) coordinates a high school and university scholarship program for local students, which is made possible due to the kind donations given by international donors. The program was originally started with only two students in 1996 when the center officially became a non-profit organization. Sixth grade students are selected jointly by the SCLC and local educators according to marks, motivation, and economic need. They receive a monthly check and attend a monthly meeting with the program coordinator throughout their high school career. These meetings focus on environmental and community themes and often include trips and service projects in the community. Scholarship students also have the opportunity to participate in English classes at the SCLC free of charge. Students must pass all their classes each year to continue participating and are required to write their donor multiple times a year.
To become a donor, please download the form here or to request more information, please contact Scholarship Program Coordinator