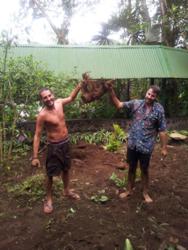 Short-term volunteer positions also are available on a limited basis and according to specific programming and community needs. We are always excited to learn about what individuals have to offer the Chilamate community and look forward to hearing about your interests and skills! Some of our current needs are, EFL assistants, rural tourism support, elementary education, adult literacy, water monitoring, forestry, botanical gardens, and PR/web/graphic design skills. Potential volunteers must have either expertise in one of these areas or a proposal as to how there skill can contribute to the local community. A minimum of intermediate Spanish skills are recommended. Short-term volunteers pay $400 per month to cover program and homestay fees.
Please contact us for more information and to learn more about Short-term Volunteer projects available at the moment.
Please contact us to find the best Short Term Volunteer Project for you!
Just a few of our opportunities include:
ESL teachers aid: While many of the schools here have English teachers, the class sizes are overwhelmingly large and human resources are stretched. This position is ideal for individuals with ESL experience and those who are interested in working with children.
Tourism Assistant: An intermediate Spanish level is advantageous.
After School Program Asistant: help run the after school programs and get to know local community members
Assistant to Receptionist – Any Short term volunteer will get roped into a few hours of practicing their Spanish and helping set up our much needed Dewy Decimal Classification in the library.
Music Instructor: SCLC needs an individual willing to expose people and children in the community to music education.
Kids ESL classes: This is a serious need in the local community however the SCLC currently does not the the volunteer resources to offer regular ESL classes for kids.
Local Fundraising Assistant: Helps to promote SCLC in local community and implement Local Corporate Sponsorship Program, grant writing.
Garden Manager: Improves and maintains garden, including organizing, planting, labeling and tending.
Computer Program Instructor: Website improvement / maintenance, Conducts training courses on different computer programs during day
Kids & Youth Camp Facilitators. January and July
Qué mas? Tell us about your interests and what you would like to participate in!!!
To apply for a short-term position (less than 5 months)