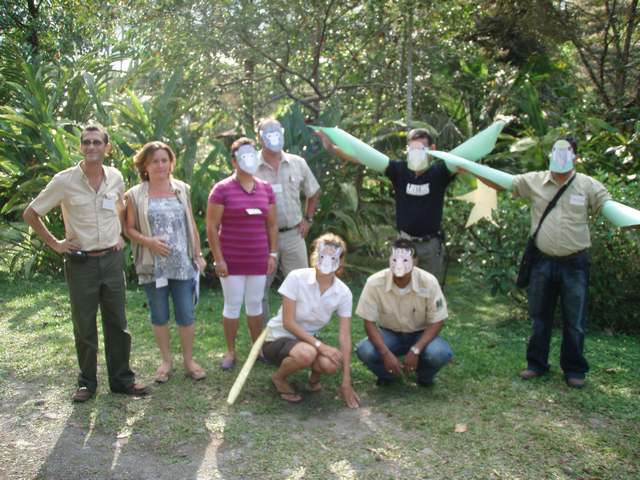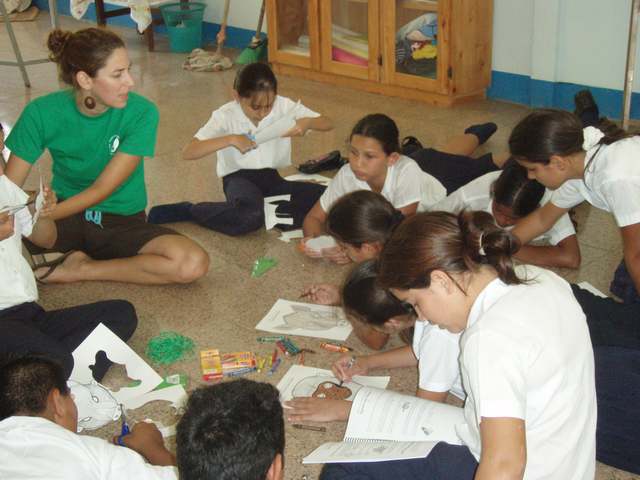 Wildlife Conservation Society…. A non profit organization started in the USA. In the Central American isthmus, Belize, Costa Rica, Guatemala and Nicaragua are included in their program to save the biggest cats in the world, the jaguars. The Great Cats Program monitors the number of jaguars, their behaviour, and their preys.
The best conservation programs always include educating people. The Wildlife Conservation Society organized a workshop, and invited the SCLC as an organization working for conservation as well as other environmental educators, directors of elementary schools and people from MINAE (Ministry of Environment and Energy) from national parks and parts of the Mesoamerican Biological Corridor, areas where jaguars live*.
We (around 25 people) stayed in Manu Center near Guapiles for three days to learn how to conserve the Jaguars Forever (Jaguares Para Siempre). This is also the title of the educational book on which the workshop was based, and its activities kept us busy for the most part of the workshop. The rest of the time we received various presentations about Jaguar Conservation such as a talk from Roberto Salomon, one of the most renowned jaguar researchers in Costa Rica, and his experiences in jaguar monitoring. His enthusiasm over took us all and transformed us into jaguar conservationists. Then, a representative of MINAE shared with us the controversies of his work in protecting the jaguars. We concluded the activities listening to Juan Carlos, the only teacher in the Nairi-Awari Indigenous Reserve in the Barbillo National Park in Costa Rica, who deals with jaguar/human confrontations. He reminded us that there are many ways to conserve, since there are so many different cultures and attitudes. Conservation is possible even if it seems impossible!
The following days, the WCS visited various communties completing activites with children in elementary schools, and meeting with community members to find out local opinion about these great cats. One of the SCLC target community elementary schools was chosen for a visit! Representatives from the WCS led activities with a group of 5th and 6th graders. The students of Escuela Kay Rica in the community of El Roble, colored masks of different animals and completed skits about different life situations that the jaguars encounter, and each group had to guess the situation! Interviews were completed with the students and adults from the community about their knowledge or experience with jaguars in the area.  Sarapiquí is part of the original habitat of the jaguars, yet their habitat has become fragmented in the area over the last 40 years.
Fortunately, organizations and institutes are coming together to promote conservation and find alternatives for decreasing forest fragmentation. The SCLC and the Executive Committee of the San Juan-La Selva Biological Corridor would like to thank the Wildlife Conservation Society for sharing their knowledge, and we pledge to keep spreading the word of Jaguars Forever in our communities.
 *Talamanca-Caribbean Biological Corridor, San Juan-La Selva Biological Corridor, La Amistad National Park, Tortuguero Conservation Area, Tempisque Conservation Area